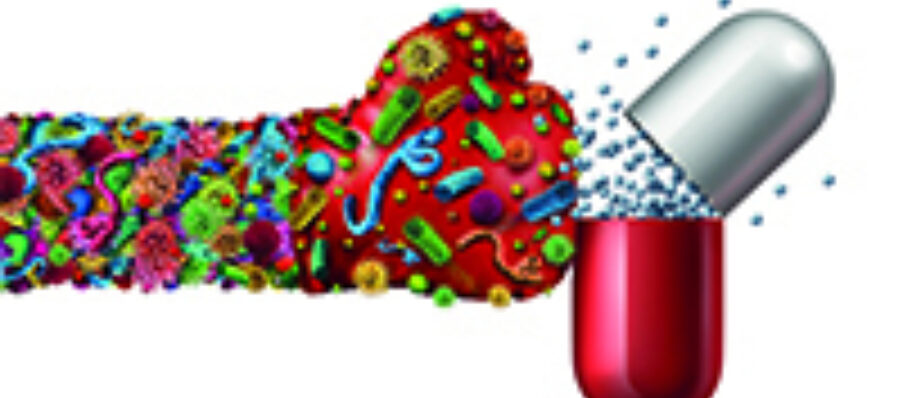 Antimicrobial Resistance
Biomedica provides a comprehensive product portfolio in the field of Antimicrobial Resistance.
Antimicrobial Resistance (AMR) is the ability of a microorganism (e.g. bacterium, fungus or parasite) to resist the action of an antimicrobial agent. The World Health Organization (WHO) has included AMR as one of the top ten threats to global health in 2019 (WHO 2019).
Today, we live in a time when more and more diseases, including respiratory tract infections, sexually transmitted infections and urinary tract infections, do not respond to drug treatment and life-saving medical procedures are becoming much riskier due to the threat of untreatable infections.
The selective pressure created by the broad use of antibiotics in agriculture, livestock, veterinary and human medical practices has contributed to the current antibiotic resistance crisis - the expansion of multidrug resistant organisms (MDROs) on a global level.

Addressing the rising threat of AMR requires therefore a multidisciplinary approach. One Health Strategy integrates human, veterinary, but also environmental, aquatic, and wildlife issues into current approaches.
AMR is a global crisis. There is no time to wait.

Antimicrobial Susceptibility Testing
Automated and customized susceptibility testing
MICRONAUT-S Detection of resistance mechanisms
MICRONAUT-S Anaerobes MIC
Molecular Assays for Active MDRO Screening
MRSA- methicillin-resistant Staphylococcus aureus carriage

Accurate, on-demand PCR test provides actionable results in about an hour
Cepheid Xpert MRSA NxG
Pre-surgical testing of S. aureus and MRSA in about an hour
Cepheid Xpert SA Nasal Complete
mecA and mecC detection in less than 100 minutes
GENSPEED MRSA

VRE- vancomycin-resistant Enterococci carriage


The first rapid and accurate test to assist with VRE surveillance
Cepheid Xpert vanA/vanB
Complete information on Vancomycin-resistance - an one-step assay
GENSPEED VanABC Plus

CRE- carbapenem-resistant Enterobacteriaceae


A qualitative, on-demand real-time PCR test for the detection and differentiation of KPC, NDM, VIM, OXA-48 and IMP in 48 minutes
Cepheid Xpert Carba-R
Tracking down carbapenem-resistance – one test in less than 100 minutes
GENSPEED Superbug CR
Extended detection of all the main relevant variants of KPC, NDM, VIM, IMP, and OXA-48-like genes
Elitech ELITe CRE MGB Kit

ESBL- Extended-Spectrum Beta-Lactamase producing bacteria carriage


Detection of the main relevant variants CTX-M-1 and CTX-M-9 gene families
Elitech ELITe ESBL MGB Kit

Colistin resistant Enterobacteriaceae colonization


Detection of plasmidic colistin resistance genes mcr-1 and mcr-2 of Enterobacteriaceae
Elitech ELITe Colistin Resistance MGB Kit
Molecular Assays for Diagnosing Antibiotic Resistant Infections
Panels for diagnosis of sepsis-causing pathogens and resistance markers
Direct-from-blood detection of antibiotic genes associated with sepsis-causing pathogens
T2 Resistance Panel by T2 Biosystems
Detection of MRSA infections
Accurate detection of MRSA and SA in positive blood culture specimens in about an hour
Cepheid Xpert MRSA/SA BC
Detect MRSA and SA skin and soft tissue infections in about an hour
Cepheid Xpert MRSA/SA SSTI

Rifampicin and Isoniazid-resistant MTB infections
Two-hour detection of MTB and rifampicin resistance mutations
Xpert MTB/RIF Ultra
Combined with the frontline test Xpert MTB/RIF Ultra, Xpert MTB/XDR detects mutations associated with drug resistance towards Isoniazid, Fluoroquinolones, Second-Line Injectable Drugs and Ethionamide
Xpert MTB/XDR
Simultaneous detection of the DNA of Mycobacterium tuberculosis complex and resistance to rifampicin and isoniazid
Elitech ELITe MTB- Resistance MGB Kit
Detection and genotyping of tuberculosis variants resistant to rifampicin and isoniazid
Diagcor GeneFlow DR-MTB Array
Clarithromycin-resistant Helicobacter pylori infections
Simultaneous detection of Helicobacter pylori and clarithromycin resistance
H. pylori ClariRes Assay
Drug-resistant Sexually Transmitted Infections
A real-time PCR test to detect Neisseria gonorrhoeae and ciprofloxacin susceptibility markers
SpeeDx ResistancePlus GC
The first molecular CE_IVD test to detect Mycoplasma genitalium and macrolide resistance markers
SpeeDx ResistancePlus MG
A multiplex assay to detect and differentiate Mycoplasma genitalium and its macrolide resistance
Elitech ELITe MG+ Resistance MGB Kit
Rapid detection of Antibiotic Resistance Markers from culture and positive blood culture
NG Biotech develops multiplex rapid tests in lateral flow format based on the use of specific monoclonal antibodies.
All tests are validated at the French National Reference Center on Antimicrobial Resistance (AMR).
Rapid detection of group 1 CTX-M β-lactamases (ESBL)
NG-Test CTX-M
Detection of CTX-M-1, CTX-M-2, CTX-M-8, CTX-M-9 and CTX-M-25 (the main CTX-M groups) with a high negative predictive value – ideal for screening
NG-Test CTX-M MULTI
Rapid detection and differentiation of KPC, OXA, VIM, IMP and NDM
NG-Test CARBA5
Rapid and visual immunoassay for the detection of MCR-1 mediated colistin resistance
NG-Test MCR-1
Complete Overview: Please Click
Quality Control in Molecular Testing for MDRO
Vircell AmpliRun are non-infectious complete genome preparations that can be used for full process control of any molecular testing.
AmpliRun Staphylococcus aureus mecA+ DNA control
AmpliRun Enterococcus faecalis (vanB) DNA control
AmpliRun Enterococcus faecium (vanA) DNA control
Complete Overview: Please Click
Microbiologics Helix Elite Molecular standards are single or multi parameter molecular controls.
Helix Elite CRE Control Panel - Inactivated Swab. IMP, KPC-3, NDM-1, OXA-48, VIM-1, Metallo-beta-lactamase positive
Helix Elite MRSA - Inactivated Swab
Helix Elite Enterococcus faecium (vanA) positive control swabs, Enterococcus faecalis negative control swabs
Rifampicin-Resistant Mycobacterium tuberculosis Control Panel - Inactivated Pellet

Complete Overview: Microbiologics_Molecular_Controls_Catalog
10/11/2021